FIBERLOCK™ Carbon Fiber - Basement Wall Repair


A-1 Indiana Waterproofing offers basement wall repair using the latest FIBERLOCK™ Carbon Fiber support system. Carbon fiber supports help to strengthen and stabilize a wall that is bowing, breaking, cracking, or splitting. These reinforcements are made from strong, metal materials that will never bend, break, or rust. They will be able to straighten your walls and put them back into their original upright position. These carbon fiber supports also stand the test of time, never deteriorating. No matter how old your home may be or how long they hold up your foundation walls, carbon fiber is built to last forever and stay sturdy.
Benefits of Our Carbon Fiber Supports
The following are a few of the advantages to our carbon fiber supports: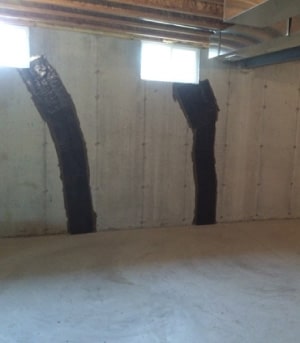 Concrete Crack Repair with FIBERLOCK™
FIBERLOCK™ Crack Repair is a cost effective method that seals, stabilizes and strengthens cracks. The FIBERLOCK™ kit's filler compound seals the crack to eliminate seepage while the carbon fiber provides tensile strength to the compromised concrete and works to minimize any movement of the crack reducing further damage. This system helps reinforce a compromised wall and stop water, insects and gases from entering through open/exposed cracks.
Bowed Wall Repair with FIBERLOCK™
The basic method of interior repair for a bowed wall is to stabilize it, stop any further movement and increase the strength of the wall to resist lateral pressure. Application of FIBERLOCK™ Wall Bracing Strips provide superior material properties compared to traditional methods of repair, take up less interior space (approximately 1/8" thickness) and require no maintenance compared to thick steel beam and anchor methods.
FIBERLOCK™ Limited Lifetime Warranty
Gateway Composites LLC is pleased to provide a Limited Lifetime Warranty to its Customers. All FIBERLOCK™ products sold by Gateway Composites are warranted to be free from material defects during the life of the original product or application into which they are incorporated, subject to the exclusions and conditions of warranty document. Consult with our team for full details and a copy of the warranty document.